Packaging materials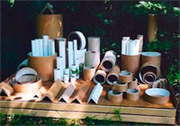 Paper packaging materials in the fixing and packaging materials category. They are known for their great firmness and shock resistance and are environmentally friendly and very affordable.
Because of the wide range of dimensions and their firmness, these packaging materials are used to protect goods in logistics and many other industrial sectors.
Used material: recycled paper, carton, kraft liner, test liner.
200 – 800 g/m2 cardboard inserts are also available.
If you are interested or have a question, please contact us at odra@odratrading.eu.